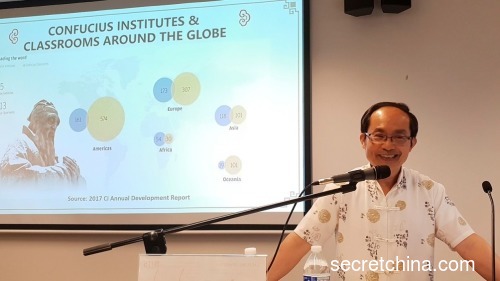 A group of China experts gathered in Sydney Australia on Thursday, Nov 15, to discuss the agenda and impact of Confucius Institutes in Australia and other developed countries.
Chaired by Feng Chongyi, Professor of China studies at the University of Technology Sydney (UTS), key speakers of the roundtable included:
- Professor John Fitzgerald, emeritus professor from Swinburne University of Technology, whose research focuses on Australia's Asian diaspora and China's territorial government and civil society
- Mr. John Garnaut, former Principal Advisor at the Department of the Prime Minister and Cabinet; an analyst at JG Global and author of 'The Rise and Fall of The House of Bo'. His writings cover the Indo-Pacific region and Australia's place in it
- Dr. Kevin Carrico, Lecturer in Chinese Studies at Macquarie University and the author of 'The Great Han'
- Ms. Zhao Yan, who specialises in Chinese language and culture studies at the University of Southern Queensland
- Ms. Sheng Xue, a Chinese-Canadian journalist, writer, poet and commentator on current affairs.
The event was hosted by the UTS Social and Political Sciences Program and Australian Values Alliance.
Australian Values Alliance (AVA)